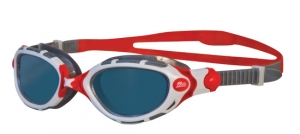 ZOGGS Predator Flex Polarized Goggle

Following the unprecedented success of the Predator Flex which became one of their most popular goggles in 2010, Zoggs announces their brand new goggle, the Zoggs Predator Flex Polarized.

As many triathletes and open water swimmers will know, glare can be a big problem. Glare off the surface of the water can create an annoying and sometimes dangerous intensity of light an annoyance at best and a serious obstacle at worst to many swimmers

The lenses on the Predator Flex Polarized are designed to help reduce this obstacle. They contain a special filter that blocks the intense reflected light from the water, reducing glare and improving visibility, helping swimmers to focus solely on the task in hand

This technology has been widely used in sunglasses, but until now, there have been no goggles available with CP polarized lenses - CP lenses are recognised as being one of the strongest polarized lenses worldwide.