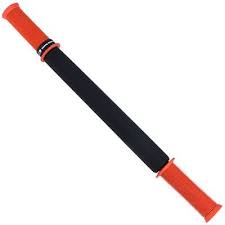 Tiger Tail The Classic 18

Tiger Tail The Classic 18" Roller

PLEASE NOTE: Before beginning any type of massage therapy or treatment, seek the advice of a physician.

Features and Benefits

* 18 long
* 10 massage surface
* 10.4 ounces
* Portable, easy-pack design
* Non-slip grip
* Easy to clean
* Made in USA.

How to Choose: 18" vs. 22"
If you're wondering how to choose between the 18" and the 22", the only difference in construction is length. The 22" offers four more inches of massage surface. The 18" offers 10" of massage surface while the 22" offers 14" of massage surface. Each handle is 4 inches long.

The 22" is best for buddy massage and back massage and for people who are less flexible or larger in size. It works well for personal use but the extra length does make it easier for using on someone else.

The 18" is our best-selling size and works great for personal massage. The shorter length makes it just a little bit easier to pack into small bags.