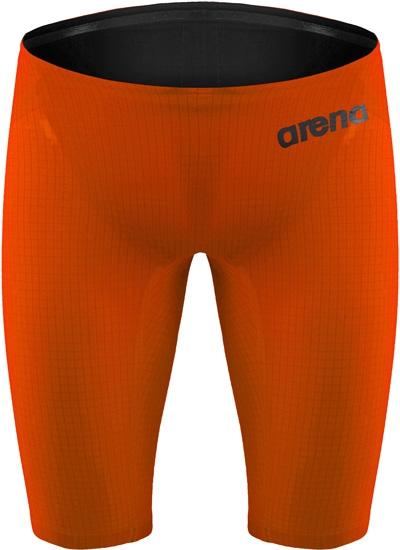 POWERSKIN Carbon Pro, the first racing suit integrating a carbon cage to deliver Intelligent muscle compression, combined with unprecedented fit. This is Arena's equivalent to the Speedo Fastskin III Racing Suit and the Speedo LZR Elite and LZR Pro Racing Suits.

To deliver a breakthrough solution to the compression challenge, arena has incorporated carbon fibre into the weave of the POWERSKIN Carbon Pro fabric. Known for its unique structural and mechanical properties, the carbon fibre locks down when and where a critical stretch level is reached, while retaining the suit's elasticity. This delivers a ramp-up in compression on those specific overextended zones, increasing support and control where and when they are needed without detracting from the swimmer's mobility.
Avg. Customer Rating:





(Based on 1 Reviews)
---





Not what you think it is.
By Jz0095 from Berkeley,CA on 12/09/2020
This suit is probably one of the best ones out there. It is quite costly, however it is worth it as long as it is in your budget. Something's you will notice from the start is, it is very compressive, it gives good mobility even though it is really tight, it does not really repel water like other suits such as the Tyr ap12 or the Speedo Lzr. This suit is based on reducing drag by compression so don't freak out when you don't see water beading off of it when you dive In. Don't go down a size from your regular suit. This suit is meant to be a little tighter right on your size. It takes about 5-10 minutes to put on and you will notice a really high amount of compression in your crotch area at first. The suit was designed to sit low on you waist so don't over pull it because you don't want to hurt yourself. Also something to note is that it last really long. Becuase the suit is based on compression, the carbon fibers are very strong and can compress for a long time. This suit is built for a reason unlike other ones and does a good job at it. If your looking for complete water repellency then this suit is not for you. I would recommend this for big swim meets and people with the budget to pay for this.